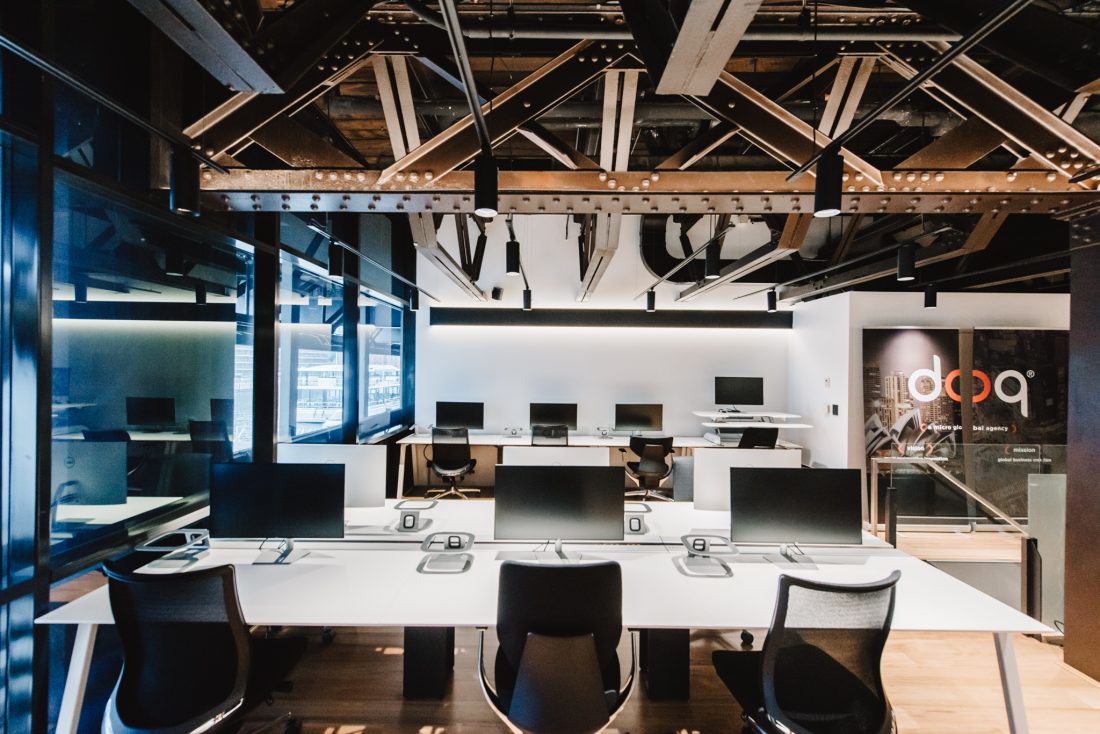 The way and where employees work is changing, whether it be from an office, a coworking space or from home – with the events of 2020 only further accelerating this change.
While the hybrid way of working is likely here to stay, the need for a physical office space remains. Having a functional space that embodies a brand's mission, values and culture can not only motivate the creativity of employees but can inspire and encourage them to grow the business daily. doq has had first-hand experience with this.
The importance of design and a vision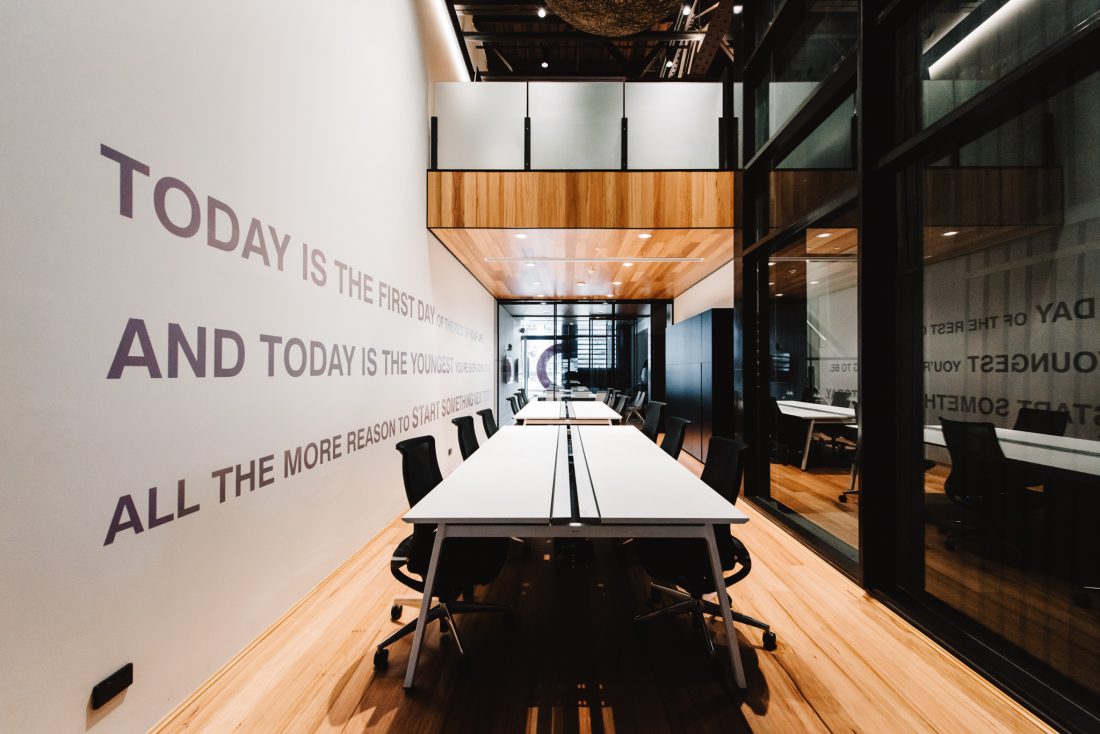 In 2019, to facilitate a growing company and encourage cross-cultural innovation, the doq office underwent a renovation with doq89 established as a coworking space adjoined to the new office. The design challenge was to refurbish the existing space into an adjoined office and coworking area while reflecting doq®'s company mission, acting as a docking hub that bridges together cultures and ideas.
doq® worked with Adelaide based Japanese architect firm Studio Jigen and Japanese company KOKUYO.
doq 89 was completed across two floors, with the coworking space located on the ground floor. This open-plan space incorporates a conference room, casual social area, and flexible working area situated on the mezzanine floor.
KOKUYO's design approach expressed the relationship between Australia and Japan both in design philosophy and methodology. The space is built for visitors who wish to feel a sense of harmony and multiculturalism and a sharp practicality that heroes flexible working and clean finishes. Each design element has been deliberately incorporated to enhance the space and provide an elevated work office of functionality, warm materiality and subtle nods to Australian and Japanese culture.
Considering the foundational need for coworking staff to collaborate while developing a space that respects the heritage of Jones Bay Wharf, the solution was to create an open-plan office that showcased simplicity, a tradition of Japanese design, while integrating elements symbolic of Australia. This included a graphic wall print to reflect the vibrant graffiti common to Australian cities and indigenous blackbutt used in the office furnishings.
Creating a functional space with Japanese and Australian inspired design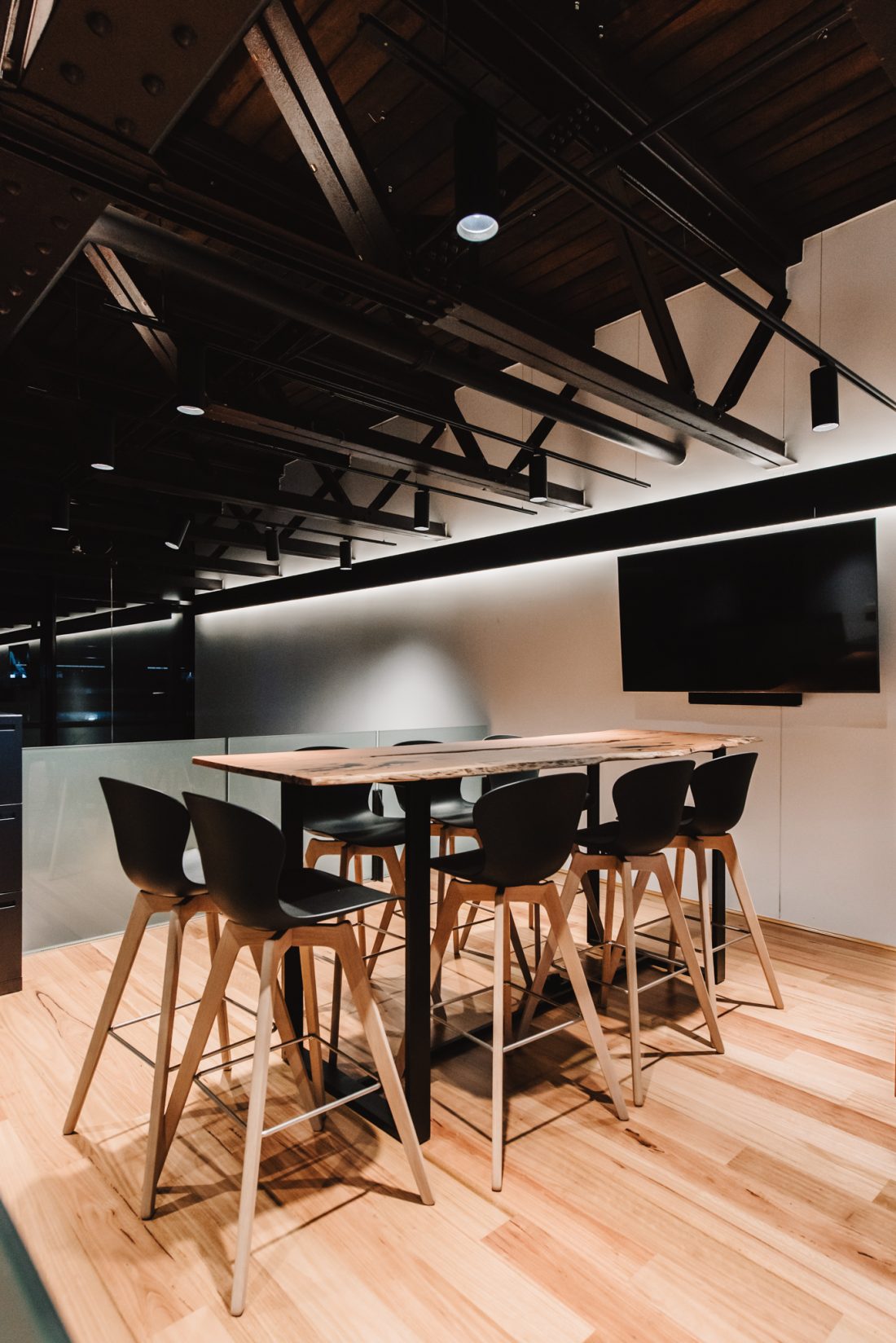 The interior design needed to create a space that allowed coworking occupants to realise ambitious possibilities while also enjoying an office of humanised zen. As a result, a simplified design methodology and careful selection of materials injected elements of blackbutt timber, refurbished wooden materials and sliding glass walls to add sophistication and pay respect to Jones Bay Wharf. The coworking space was furnished with a harmonised mix of furniture from Australia and Japan, reflecting doq®'s cross-cultural foundations.
High emphasis was placed on the space's functionality, as its core purpose was to facilitate efficiency and innovation. The open-plan design maximises floor space which is used flexibly. Sliding glass walls creating seamless transitions, offering the capacity to elongate or confine a space as necessary. Open breakout spaces with furniture settings focused on interaction are also incorporated into the office design, such as a flexible working area on the mezzanine floor, allowing activity-based working and easy transitions between a space and working style of choice.
Like other businesses in Australia entering a recovery phase and with more workers returning to offices, the doq89 collaborative office environment provides the space to stimulate ideas in a COVID-safe way.
For more information on doq89, please contact us at doq89@thedoq.com